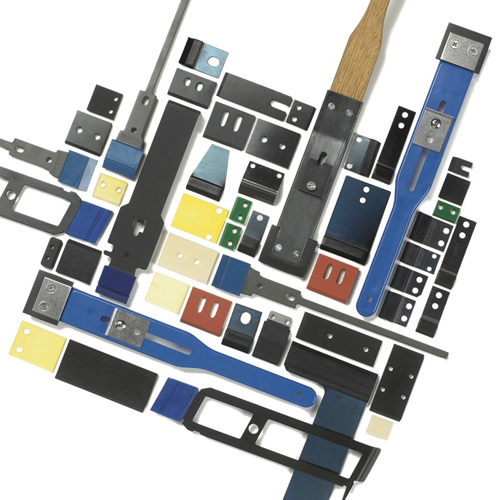 SANTEC Hickey Picker Finger Replacement Parts are the best:
Manufactured in our own plant to OEM specification.
Specifically formulated rubber, plastic, and other specialty materials which ensure maximum performance and wear resistance.
Unique bonding process between metal and rubber so that there is never a bond failure.
Specially treated metal for maximum corrosion resistance.
Safe metal parts so that there are no sharp edges or burrs.
Shipment available within 24 hours on standard and specialty fingers.
* We can fit every press in your shop. Our in-house design staff can quickly meet any custom requirement or special order.


Pricing does not reflect any discounts. We will email you corrected pricing if applicable once the order is placed or you may call us at 203.878.1379 for current pricing.
| | | | | | | | |
| --- | --- | --- | --- | --- | --- | --- | --- |
| Santec Part No | Press Name | Material | Holes / Slots | Short Dim. (inches) | Length (inches.) | Price Per Item | |
| 4330 | HEIDELBERG | HANDLE | 2 | 12.5 | 2.00 | $35.00 | |
| 1660-1 | MILLER | M/R | 2 | 0.785 | 3.25 | $4.50 | |
| 1660-2 | KOMORI | M/R | 2 | 1.2 | 2.10 | $7.15 | |
| 1660-3 | AKIYAMA | RUBBER | 2 | 1.27 | 0.54 | $5.50 | |
| 1660-4 | MIEHLE/MAN-ROLAND | RUBBER | 1 | 0.86 | 0.63 | $2.50 | |
| 1660-4 | MIEHLE/MAN-ROLAND | RUBBER | 1 | 0.86 | 0.63 | $2.50 | |
| 1660-5 | AKIYAMA | URETHANE | 2 | 1.2 | 1.13 | $5.00 | |
| 1660-5R | AKIYAMA | RUBBER | 2 | 1.2 | 1.13 | $5.00 | |
| 1660-6P | HEIDELBERG | PLASTIC-UHMW | 2 | 2 | 1.60 | $4.00 | |
| 1660-6S | HEIDELBERG | SILICONE | 2 | 2 | 1.60 | $8.00 | |
| 1660-6 | HEIDELBERG | RUBBER | 2 | 2 | 1.60 | $4.00 | |
| 1660-7 | HEIDELBERG | M/R | 2 | 1.5 | 6.25 | $10.00 | |
| 1660-8 | SPECIAL | M/R | 2 | 1.5 | 2.13 | $4.50 | |
| 1660-9 | KBA PLANETA/ROYAL ZE | URETHANE | 0 | 1.25 | 1.50 | $3.00 | |
| 1660-10 | SHINOHARA (FUJI) | M/R | 2 | 1.188 | 1.25 | $5.00 | |
| 1660-11 | SPECIAL | M/R | 0 | 1 | 4.00 | $3.50 | |
| 1660-12 | KBA PLANETA/ROYAL ZE | URETHANE | 2 | 1.5 | 2.00 | $4.00 | |
| 1660-13 | KOMORI | M/R | 2 | 2.25 | 2.06 | $7.50 | |
| 1660-14 | MILLER | M/R | 1 | 0.6 | 1.81 | $4.00 | |
| 1660-15 | MITSUBISHI | SILICONE | 2 | 1.75 | 1.56 | $15.00 | |
| 1660-16 | HEIDELBERG | M/R | 2 | 2 | 1.60 | $4.00 | |
| 1660-17 | SPECIAL | M/R | 2 | 0.77 | 3.00 | $4.50 | |
| 1660-18 | KBA PLANETA/ROYAL ZE | URETHANE | 2 | 1.5 | 2.00 | $4.00 | |
| 1660-19 | MITSUBISHI | RUBBER | 2 | 1.813 | 1.19 | $5.00 | |
| 1660-20 | SHINOHARA (FUJI) | SILICONE | 0 | 0.813 | 0.98 | $8.00 | |
| 1660-21 | SHINOHARA (FUJI) | MET/URETHANE | 2 | 1 | 0.70 | $20.00 | |
| 1660-22 | KOMORI | MET/soft RUBBER | 2 | 1.2 | 2.10 | $7.70 | |
| 1660-23 | KOMORI | M/R | 2 | 1.2 | 2.10 | $7.00 | |
| 1660-24 | MITSUBISHI | RUBBER | 2 | 1.75 | 1.56 | $7.50 | |
| 1660-25 | SAKURAI / OLIVER | RUBBER | 2 | 1 | 1.00 | $5.00 | |
| 1660-26 | MIEHLE/MAN-ROLAND | RUBBER | 4 | 1.375 | 2.94 | $7.50 | |
| 1660-26 | MIEHLE/MAN-ROLAND | RUBBER | 4 | 1.375 | 2.94 | $7.50 | |
| 1660-27 | KOMORI | M/R | 2 | 1.2 | 2.10 | $7.50 | |
| 1660-28 | KBA PLANETA/ROYAL ZE | MET/RUBBER W/BEND | 2 | 1.578 | 2.00 | $10.00 | |
| 1660-29 | HEIDELBERG | RUBBER | 1 | 1.063 | 3.00 | $4.50 | |
| 1660-30 | KOMORI | SILICONE | 2 | 1.15 | 2.06 | $15.00 | |
| 1660-31 | HEIDELBERG | M/R | 0 | 1.5 | 2.15 | $4.50 | |
| 1660-32 | HEIDELBERG | RUBBER | 2 | 1.563 | 1.50 | $4.50 | |
| 1660-33 | HEIDELBERG | M/R | 2 | 1.5 | 6.86 | $10.00 | |
| 1660-34 | HEIDELBERG | RUBBER | 0 | 4 | 1.75 | $5.00 | |
| 1660-35 | RYOBI-ITEK | M/R | 2 | 0.469 | 3.00 | $5.00 | |
| 1660-38 | SHINOHARA (FUJI) | M/R | 2 | 0.875 | 1.50 | $5.50 | |
| 1660-40 | MIEHLE/MAN-ROLAND | PLASTIC | 0 | 1.063 | 1.00 | $5.00 | |
| 1660-40 | MIEHLE/MAN-ROLAND | PLASTIC | 0 | 1.063 | 1.00 | $5.00 | |
| 1660-40R | MIEHLE/MAN-ROLAND | RUBBER | 0 | 1.063 | 1.00 | $5.00 | |
| 1660-41 | HEIDELBERG | M/R | 0 | 9.563 | 1.40 | $35.00 | |
| 1660-42 | MITSUBISHI | M/R | 2 | 11.187 | 3.74 | $60.00 | |
| 1660-43 | MIEHLE/MAN-ROLAND | RUBBER | 2 | 1.16 | 1.19 | $4.50 | |
| 1660-45 | HEIDELBERG | M/R | 0 | 8.563 | 1.38 | $35.00 | |
| 1660-46 | KBA PLANETA/ROYAL ZE | RUBBER | 2 | 3.375 | 1.13 | $4.50 | |
| 1660-47 | KBA PLANETA/ROYAL ZE | M/R | 1 | 1.188 | 1.19 | $5.00 | |
| 1660-48 | SPECIAL | RUBBER | 0 | 0.813 | 0.63 | $4.00 | |
| 1660-50 | HEIDELBERG | M/R | 2 | 9.625 | 2.00 | $35.00 | |
| 1660-51 | SPECIAL | M/R | 2 | 1.188 | 1.56 | $5.00 | |
| 1660-52 | SPECIAL | M/R | 2 | 2.25 | 2.10 | $8.00 | |
| 1660-53 | HEIDELBERG | HANDLE W/BEND | 1 | 15 | 1.25 | $60.00 | |
| 1660-54 | SPECIAL | SILICONE | 2 | 2.188 | 1.50 | $8.00 | |
| 1660-55 | SPECIAL | RUBBER | 0 | 1.5 | 1.50 | $5.00 | |
| 1660-56 | KBA PLANETA/ROYAL ZE | M/R | 2 | 1.563 | 1.09 | $5.00 | |
| 1660-57 | SPECIAL | RUBBER | 0 | 2 | 1.60 | $4.00 | |
| 1660-58 | SPECIAL | RUBBER | 1 | 2 | 1.75 | $12.00 | |
| 1660-59 | MILLER | M/R | 2 | 0.785 | 2.00 | $4.50 | |
| 1660-60 | AKIYAMA | URETHANE | 2 | 1.125 | 1.25 | $5.00 | |
| 1660-61 | SPECIAL | M/R | 2 | 1 | 1.35 | $5.00 | |
| 1660-62 | KBA PLANETA/ROYAL ZE | M/R | 1 | 2 | 1.25 | $12.50 | |
| 1660-63 | MIEHLE/MAN-ROLAND | RUBBER | 0 | 1.065 | 1.00 | $5.00 | |
| 1660-70 | KBA PLANETA/ROYAL ZE | M/R | 1 | 1.24 | 1.97 | $13.75 | |
| 1660-65 | RYOBI-ITEK | M/R | 2 | 1.4 | 9.75 | $39.45 | |